This past week has been the busiest week yet! I've only had time to make one post and I missed WWW Wednesday as I went to a concert with my sister and a friend so that post will be busier next week!
Books of the Week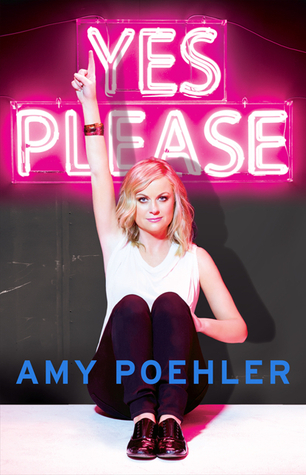 So in the last week I finished reading Six of Crows! Wow this book was SO good!! I am delighted that it lived up to all the hype I had seen surrounding it. I totally fell in love with the characters, the world-building was creative and detailed, and the plot was fast-paced and action-packed. Really truly love this book! Review later this week. I am still listening to Yes Please by Amy Poehler. I'm about 2/3's of the way through and really enjoying it. I'm glad I made this my first audiobook, hearing Amy read her book is much more entertaining than it would have been if I had read it myself! Yesterday I started reading my arc of Flawed by Cecelia Ahern. So far the concept is intriguing and it has been fairly fast-paced, I'm still not sure how I feel about the main character but we'll see how it develops!
---
Films of the Week
I managed to fit two movies into my crazy busy week! A Girl Like Her gives a deeply emotional and fairly distressing view of the impacts of bullying. The film, while fictional, is filmed to look like a documentary and follows the story of a young girl who attempts suicide after being persistently bullied by her ex-best friend. As a teacher, I found it particularly difficult to watch this as I can relate to the situation having seen first-hand just how awful girls can be to one another. Brooklyn is my favourite movie of the week. I had wanted to see it for a while and it was one of the few Academy Award nominated movies I had left to watch after the awards themselves. Saoirse Ronan gives a breathtaking and emotional performance and I thought it was filmed beautifully. As much as this is a romance, it offers so much more.
TV of the Week
So my week consisted of the following TV shows:
Suits was my favourite of the week!! WOW! I felt so emotionally attached to the finale episode and still can't believe the outcome! I'm really interested to see where the show will go next. I've also really been enjoying the most recent episodes of Castle.
Episode three of The Night Manager airs in an hour and a half and I can't wait. Despite being biased because Hugh Laurie is in it, I am finding this really interesting and can't wait to see what happens this week! I've bought the book which I'll be reading soon.
Blogposts of the Week
Finally…
I was thrilled with the winners of the Academy Awards last weekend! I am SO SO thrilled for Leonardo Dicaprio finally winning his first Oscar and it is so well deserved for his performance in The Revenant. My happiest moment was Brie Larson winning for her performance as Ma in Room. How adorable was Jacob Tremblay's little face when his best friend Brie won? He had me grinning from ear to ear!
Do you have any opinions on the above books? Or maybe you've seen one of the same movies as me or are a fan of the TV shows I watch? Get in touch! 
---
Feel free to follow me on Twitter or Goodreads. Comments are always warmly welcome.