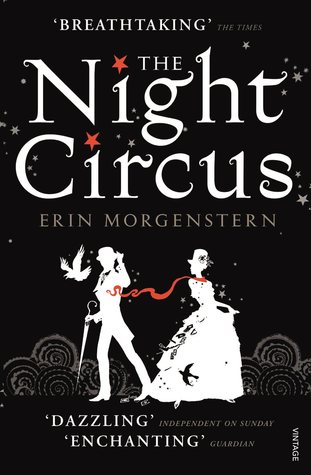 The Night Circus

Author: Erin Morgenstern
Genre: Fantasy, Fiction
Date of Publication: September 13th 2011
Format: Paperback (490pages)
---
Synopsis: The circus arrives without warning. No announcements precede it. It is simply there, when yesterday it was not. Within the black-and-white striped canvas tents is an utterly unique experience full of breathtaking amazements. It is called "Le Cirque des Reves," and it is only open at night.
But behind the scenes, a fierce competition is underway–a duel between two young magicians, Celia and Marco, who have been trained since childhood expressly for this purpose by their mercurial instructors. Unbeknownst to them, this is a game in which only one can be left standing, and the circus is but the stage for a remarkable battle of imagination and will. Despite themselves, however, Celia and Marco tumble headfirst into love – a deep, magical love that makes the lights flicker and the room grow warm whenever they so much as brush hands.
True love or not, the game must play out, and the fates of everyone involved, from the cast of extraordinary circus per-formers to the patrons, hang in the balance, suspended as precariously as the daring acrobats overhead.
---
My Rating: ★★★★ 1/2
When I finally picked up this book, I was worried it was not going to live up to the hype I had seen around it. Luckily, I was wrong and it did just that!
This book is packed full of gorgeous world-building and enchanting descriptions of The Night Circus. It took only a couple of pages before I was totally absorbed in the world of these characters and desperately wanted to visit the circus. By far my favourite parts of this long book were the wonderfully magical descriptions of a circus which is like no other. I could perfectly visualise each of the acts in my head, I could practically smell the cider and toffee popcorn. It really is mind-blowingly beautiful in that sense.
My only slight issue with the book is that at times I really felt quite confused. I had to flick back quite a few times at the beginning to check dates etc as I was unsure as to the sequencing of some of the chapters. It became clear later on in the novel but it certainly made it a little more difficult to follow a plot which is already fairly complex. There were also a huge amount of characters and we see the circus and developing story through their many points of view. I can't think of a single character whom I disliked but I also didn't really feel as though I got to know them all either.
This is one of those rare books where I actually was more in love with the world created by the author than the characters. This is rare for me but stands as a testament to how beautiful the writing in this book is. I was completely lost in the world of the circus and I know I will be enchanted by it for years to come.
What did I love most about the book?
As you've probably already gathered, my favourite thing about the book is definitely the beautiful descriptions of the circus itself. I felt like I had been totally removed from my own world and had entered a whole new universe of the Night Circus. I was captivated by the different acts being described and I feel that I could easily recall my own memories of having been there. Really, truly beautiful.
Memorable Quotes
"People see what they wish to see. And in most cases, what they are told that they see."
"Life takes us to unexpected places sometimes. The future is never set in stone, remember that."
"The most difficult thing to read is time. Maybe because it changes so many things."
"Like stepping into a fairy tale under a curtain of stars."
Final Thoughts
The beautiful descriptions and enchanting circus totally made this book for me. I really, thoroughly enjoyed reading it and I am in love with the idea of a visit to The Night Circus.
Have you read The Night Circus? What did you think?
---
Feel free to follow me on Twitter or Goodreads. Comments are always warmly welcome.