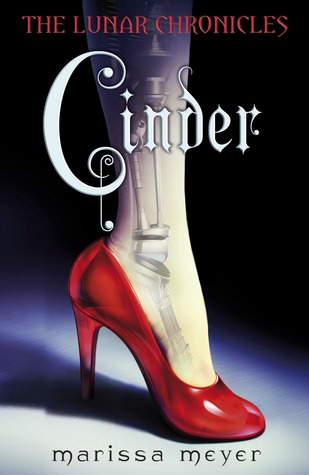 Cinder (The Lunar Chronicles #1)

Author: Marissa Meyer
Genre: Young Adult, Fantasy, Sci-Fi/Dystopia
Originally Published: January 3rd 2012
Format: Paperback (387 pages)
---
Synopsis: A forbidden romance.
A deadly plague.
Earth's fate hinges on one girl . . .
CINDER, a gifted mechanic in New Beijing, is also a cyborg. She's reviled by her stepmother and blamed for her stepsister's sudden illness. But when her life becomes entwined with the handsome Prince Kai's, she finds herself at the centre of a violent struggle between the desires of an evil queen – and a dangerous temptation.
Cinder is caught between duty and freedom, loyalty and betrayal. Now she must uncover secrets about her mysterious past in order to protect Earth's future.
This is not the fairytale you remember. But it's one you won't forget.
---
My Rating: ★★★★★
Let me start by saying that I did not expect to love this book as much as I did! I had heard so many good things about it but also seen a mix of not-so-great reviews so I went into this feeling fairly certain it wouldn't live up to the expectations. I am delighted that I could not have been more wrong!
Cinder is a very clever retelling of the Cinderella fairytale, only this time Cinder is part human/part cyborg, she has an adorable android best friend called Iko and she is a mechanic. The similarities are drawn from her family situation (living with fairly evil stepmother and two step-sisters – although Peony is adorable), she meets the Prince and they develop feelings for each other and she infamously attends the ball. However, I really feel that Cinder stands apart from being a retelling. On so many occasions I had completely forgotten that this was even related to the story of Cinderella and I think that goes to show the strength of the story and world that Marissa Meyer has created.
I loved the plot of Cinder. As soon as I had read the first couple of chapters I just couldn't bear to put this down. It was a real page turner. So many of the chapters left off on a point where I simply had to continue that before I knew it I was closing the book after a great ending! I'm going to keep this spoiler free but even though quite early on in the book the thought of what happens at the end crossed my mind, there was so much development and action throughout the book that I forgot about it and still enjoyed the ending.
I enjoyed the world that was created for the series in this book, too. New Beijing sounds like a super interesting place and I really enjoyed learning a little about the Lunars and their powers. The idea of being manipulated into not being able to see someone's true self is quite terrifying – especially the thought of being around Queen Levana. I really hope we'll get to see more of the Moon in the next few books and find out how the Lunars came to be there. I'm also really interested to see how it will play out between the Earthens and the Lunars.
What did I love most about the book?
I seriously loved the characters! Cinder is a great character and I absolutely adored her little android sidekick Iko. Iko was sassy and fabulous; the best friend every girl wants. I thought Peony was adorable and I loved to dislike Adri. Queen Levana makes me shudder with fright, she is so evil but I still liked her character. Even Kai is a great character. In fact, I struggle to think of a single character in this book that actually annoyed me, and that's quite something!
Memorable Quotes
"I'm sure I'll feel much more grateful when I find a guy who thinks complex wiring in a girl is a turn-on."
"Vanity is a factor, but it is more a question of control. It is easier to trick others into perceiving you as beautiful if you can convince yourself you are beautiful. But mirrors have an uncanny way of telling the truth."
"Prince Kai! Check my fan, I think I'm overheating."
"But if there was one thing she knew from years as a mechanic, it was that some stains never came out."
Final Thoughts
On the whole I thought this was a really great start to the Lunar Chronicles series and I can't wait to pick up the second book and see what happens next!
Have you read Cinder/The Lunar Chronicles? What did you think?
---
Feel free to follow me on Twitter or Goodreads. Comments are always warmly welcome.