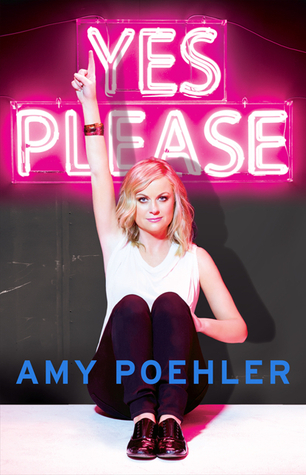 Yes Please

Author: Amy Poehler
Genre: Non-Fiction, Memoirs, Autobiography
Originally Published: October 28th 2014
Format: Audiobook
---
Synopsis: In Amy Poehler's highly anticipated first book,Yes Please, she offers up a big juicy stew of personal stories, funny bits on sex and love and friendship and parenthood and real life advice (some useful, some not so much), like when to be funny and when to be serious. Powered by Amy's charming and hilarious, biting yet wise voice, Yes Please is a book full of words to live by.
---
My Rating: ★★★★
Yes Please is a touching but hilarious memoir from the loveable Amy Poehler. I had never listened to an audiobook before this one, but I could not be more happy that I made this my first one. Listening to Amy (and guests) reading her book was such a rewarding experience. I'm not sure I would have enjoyed it quite as much had I read it myself. Amy touches upon many of her life experiences in this memoir. She talks about motherhood, marriage, divorce, love, family and, of course, her glowing comedy career. It was an interesting insight into her life and if you like Amy Poehler, you must read this!
What did I love most about the book?
I think my favourite thing was the experience of listening to this as an audiobook. It really made for a unique experience to hear Amy reading her memoirs aloud. She is such a great comedian and I found myself laughing hilariously on more than a few occasions during my listening.
Memorable Quotes
"That is the motto women should constantly repeat over and over again. Good for her! Not for me."
"People are their most beautiful when they are laughing, crying, dancing, playing, telling the truth, and being chased in a fun way."
"Saying "yes" doesn't mean I don't know how to say no, and saying "please" doesn't mean I am waiting for permission."
"The only way we will survive is by being kind. The only way we can get by in this world is through the help we receive from others. No one can do it alone, no matter how great the machines are."
Final Thoughts
A touching and hilarious first book from Amy. I'm hopeful that she will write more in the future!
Have you read Yes Please? What did you think?
---
Feel free to follow me on Twitter or Goodreads. Comments are always warmly welcome.