A three day bank holiday weekend is certainly helping me to feel super relaxed. I've finished a couple of books, caught up on my shows and watched a couple of movies I couldn't wait to see.
Books of the Week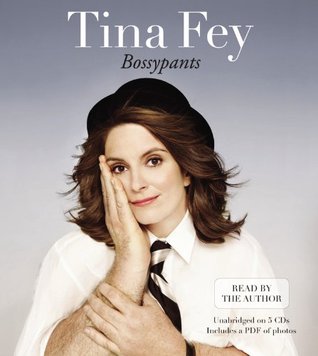 I finished listening to Bossypants by Tina Fey yesterday and I am SO glad I chose to listen to this as Tina's narration was absolutely hilarious and I now admire her even more. I loved how she approached such a range of topics in an honest and witty way. I also finished off How To Be A Woman, but if I'm totally honest I didn't particularly like it. It was okay. I liked her sense of humour, but did not like the way in which it was used at points in this book. This morning I polished off my arc of The Night Stalker (DCI Erika Foster #2) which is due for publication on June 2nd. I loved the first book in the series and this one did not disappoint. I thought it was a fast-paced, exciting read with lots of twists and turns accompanied by excellent characters and strong writing. Highly recommend! The second book of May for me is Tiger Lily by Jodi Lynn Anderson. I read the first few chapters this afternoon and I like it so far.
---
Films of the Week
I have watched two movies this weekend. The first one was part of a family trip to the cinema and we chose The Jungle Book. I am a huge fan of everything Disney and I couldn't wait to see this highly anticipated live action remake. I was not left disappointed. I thought the storyline was told beautifully and the animation was incredible. On several occasions I found myself asking how they had trained the animals to talk – that's how realistic they are. I thought Neel Sethi did a superb job as Mowgli. I also watched another new Disney movie: Zootopia (or Zootropolis as it is called here in the UK). I really enjoyed this movie. It had everything you would expect from a classic Disney film with some strong underlying themes. I love how Disney films continue to teach both children and adults some life long lessons.
TV of the Week
So my week consisted of the following TV shows:
My favourite episodes of the week were Grey's Anatomy and The Good Wife. I can't believe how close to the end of The Good Wife we are. I'm still totally gutted that it's not returning for an eighth season. I can definitely feel a summer rewatch on the horizon!! I'll miss Alicia and Diane so much.
In other news, Game of Thrones and Veep were both back on my screen last week and I was so excited. I've enjoyed Game of Thrones since the beginning. I am now intrigued to see where they are going to take the show now that they are ahead of the book (come on, G. R. R. Martin – we are not-so-patiently waiting!). I love Veep for the complete opposite reasons, obviously. I've watched it since the beginning and love how it makes my face ache with laughter. All made even better when Hugh Laurie joined the show last year!
Blogposts of the Week
Finally…
That time of year is approaching where my TV shows will start to approach the highly anticipated (and sometimes dreaded) season finales. Most of my shows have been renewed which is great news! My May TBR went up earlier today and I'm looking forward to reading some long-awaited books this month.
Do you have any opinions on the above books? Or maybe you've seen one of the same movies as me or are a fan of the TV shows I watch? Get in touch! 
---
Feel free to follow me on Twitter or Goodreads. Comments are always warmly welcome.