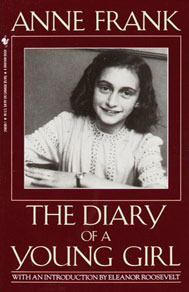 The Diary of a Young Girl
Author: Anne Frank
Genre: Non-Fiction, Classics, Memoir
Originally Published: 1947
Format: Kindle (349 pages)
---
Synopsis: Discovered in the attic in which she spent the last years of her life, Anne Frank's remarkable diary has since become a world classic—a powerful reminder of the horrors of war and an eloquent testament to the human spirit.
In 1942, with Nazis occupying Holland, a thirteen-year-old Jewish girl and her family fled their home in Amsterdam and went into hiding. For the next two years, until their whereabouts were betrayed to the Gestapo, they and another family lived cloistered in the "Secret Annexe" of an old office building. Cut off from the outside world, they faced hunger, boredom, the constant cruelties of living in confined quarters, and the ever-present threat of discovery and death.
In her diary Anne Frank recorded vivid impressions of her experiences during this period. By turns thoughtful, moving, and amusing, her account offers a fascinating commentary on human courage and frailty and a compelling self-portrait of a sensitive and spirited young woman whose promise was tragically cut short.
---
My Rating: ★★★★★
This is a fascinating read and an incredible insight into the life of Anne and her family while they hid out during World War II. Despite the exceptional circumstances of her young life, I found myself able to relate to Anne on so many different levels. Her diary is a detailed reflection of her emotions and feelings about numerous topics such as family, friendship, love, boyfriends, sex: all the things your average teenager may spend their youth pondering and exploring. All of these areas are explored by Anne with the painful honesty of someone who is unable to explore all of her feelings openly in the world, like she should have been able to. The real tragedy of this diary is reading Anne's many aspirations and dreams for her future; the bright future that she should have had. It is with sadness and a heavy heart that we get this unique insight into this wonderful young woman and her life, all the while knowing that her life was tragically cut so short. A really poignant read.
Memorable Quotes
"I've found that there is always some beauty left — in nature, sunshine, freedom, in yourself; these can all help you."
"It's really a wonder that I haven't dropped all my ideals, because they seem so absurd and impossible to carry out. Yet I keep them, because in spite of everything, I still believe that people are really good at heart."
"People can tell you to keep your mouth shut, but that doesn't stop you from having your own opinion."
"In the long run, the sharpest weapon of all is a kind and gentle spirit."
"Where there's hope, there's life. It fills us with fresh courage and makes us strong again."
Final Thoughts
If you haven't read this already then I really recommend that you do. Although it is clearly tinged with sadness, this is a unique glimpse into the life of an inspirational young woman.
Have you read The Diary of a Young Girl? What did you think?
---
Feel free to follow me on Twitter or Goodreads. Comments are always warmly welcome.