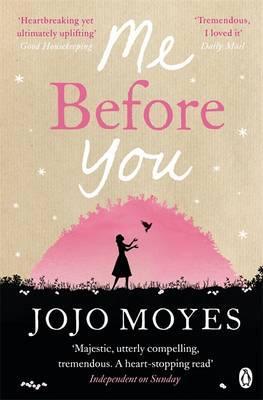 Me Before You

Author: Jojo Moyes
Genre: Contemporary Fiction, Romance, Chick-Lit
Originally Published: January 5th 2012
Format: Paperback (481 pages)
---
Synopsis: Lou Clark knows lots of things. She knows how many footsteps there are between the bus stop and home. She knows she likes working in The Buttered Bun tea shop and she knows she might not love her boyfriend Patrick.
What Lou doesn't know is she's about to lose her job or that knowing what's coming is what keeps her sane.
Will Traynor knows his motorcycle accident took away his desire to live. He knows everything feels very small and rather joyless now and he knows exactly how he's going to put a stop to that.
What Will doesn't know is that Lou is about to burst into his world in a riot of colour. And neither of them knows they're going to change the other for all time.

---
My Rating: ★★★★
This is a beautiful story about love, loss and hope. I knew how this book would end before I started reading it but that didn't stop me from crying on several occasions throughout this book.
I really liked the writing style. This is my first Jojo Moyes novel and I found myself quickly absorbed in Louisa and Will's world. I liked that most of the book was told from Louisa's point of view. The random character point of views were okay, but at times I felt they weren't necessarily needed.
I seriously loved Louisa as a character!! I could easily imagine this ditsy, loveable young woman walking around in the most extravagant, colourful outfits and was able to imagine exactly how Will's face would light up with her around. I warmed to Louisa immediately and by the end of the novel I really wanted to scoop her up in my arms and look after her. Her relationship with Will really touched me. I loved how he consistently fought for her to have a better life, even if it is not the life she ever imagined herself having.
I was expecting this to be a full 'romance in your face' kind of book, but I was pleasantly surprised to see that it wasn't. Of course there is an element of romance but actually this book is a touching, emotional and, often, gently funny outlook on life and its challenges. It made me think about life and how lucky we are. Love really can be found in the most unlikely of places and situations.
What did I love most about the book?
I loved how this book explored relationships. We see Louisa's relationship with Will develop into such a beautiful, fragile thing. We also see Louisa's broken relationship with her boyfriend Patrick as well as the relationships within her family. I particularly liked the way in which the relationship between Louisa and her sister was portrayed. There was a raw honesty to this particular relationship and I really liked that.
Memorable Quotes
"You only get one life. It's actually your duty to live it as fully as possible."
"Some mistakes… Just have greater consequences than others. But you don't have to let the result of one mistake be the thing that defines you. You, Clark, have the choice not to let that happen."
"I will never, ever regret the things I've done. Because most days, all you have are places in your memory that you can go to."
Final Thoughts
This was a really great read and I can't wait to see the movie! I highly recommend you have the tissues ready if you are going to read/see this! Check out the trailer below:
Have you read Me Before You? What did you think?
---
Feel free to follow me on Twitter or Goodreads. Comments are always warmly welcome.