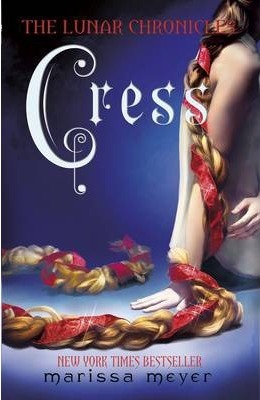 Cress (The Lunar Chronicles #3)

Author: Marissa Meyer
Genre: Young Adult, Fantasy, Sci-Fi/Dystopia
Originally Published: February 4th 2014
Format: Paperback (550 pages)
---
Synopsis: In this third book in the Lunar Chronicles, Cinder and Captain Thorne are fugitives on the run, now with Scarlet and Wolf in tow. Together, they're plotting to overthrow Queen Levana and her army.
Their best hope lies with Cress, a girl imprisoned on a satellite since childhood who's only ever had her netscreens as company. All that screen time has made Cress an excellent hacker. Unfortunately, she's just received orders from Levana to track down Cinder and her handsome accomplice.
When a daring rescue of Cress goes awry, the group is separated. Cress finally has her freedom, but it comes at a high price. Meanwhile, Queen Levana will let nothing prevent her marriage to Emperor Kai. Cress, Scarlet, and Cinder may not have signed up to save the world, but they may be the only hope the world has.
---
My Rating: ★★★★★
Just when I thought the Lunar Chronicles couldn't possibly maintain its 5* streak, I picked up Cress and was delightfully proven wrong.
Cress is everything I love about the Lunar Chronicles so far. All of the characters are SO well developed, whether they are a main character or a secondary figure, each and every one of them has their own unique personality and role to play. I love this so much about these books. The plot of Cress moved along quite quickly, and although it was a little predictable in places, it kept me obsessively turning pages and devouring the story. It was very fast-paced and exciting, especially the last 150 pages or so.
Cress is a loose take on the traditional Rapunzel tale but, to me, it very much stood apart from the traditional story. Aside from the fact that Cress spent seven years in isolation on a satellite and has ridiculously long hair which quickly gets chopped off by Thorne, it was easy to forget that this is a fairy tale retelling. This is something I feel that Meyer has truly mastered. She leaves just enough of a lingering scent of the traditional tale to fill you with childhood joy but then masks it in a completely unique and spellbinding story.
I cannot get enough of the characters in this series. Every time I try to pick a favourite, I am introduced to another character I love! Iko is still reigning close to the top of the list. I just love this sassy little android and I loved that she had such a huge role to play in the second half of this book. As well as her little dreams coming true, she also was a vital team member and I often forget that she started out back in Cinder as a tiny android friend. I also loved having more chapters with Cinder this time around. I missed her quite a lot in Scarlet and was delighted to have her back again. I love how Cinder's character is developing and how she has started to embrace her true identity more fully. I love the way in which she uses her Lunar skills combined with her cyborg and very human emotions to protect and fight for those that she loves.
CRESS! Oh this little gem captured my heart immediately! I love her so much. I adore that after having two such strong female leads in Cinder and Scarlet, in Cress we have a much more naive and gentle young girl. I love that she doesn't even realise her own true worth and power and I fiercely wanted to protect her throughout this book. Which is where Captain Thorne comes in! These two are the most adorable little couple. I love that her naivety brings out Thorne's softer side and I really hope to read a lot more about them in Winter.
I kind of missed Scarlet in this book as she is gone for most of it and I can't wait to see what will happen when she is reunited with Wolf. (Assuming that this will happen, that is …)
The Lunars still creep me out. Even though Cress does a lot to inform us of the many hundreds of Lunars who are hiding out on Earth, I still get scared when I think of Queen Levana and her sidekicks, especially Sybil. I hated the way in which Sybil treated Cress up on that satellite and I couldn't have been more pleased by how this book ended for her. I enjoyed learning more about Luna and the people who live there. I know there will be a lot more of Luna on display in Winter too.
What did I love most about the book?
I'm pretty sure that every time I write a review of a book in the Lunar Chronicles, I will be saying that the characters are my favourite thing. I just cannot get enough of the characters in this series. I love their personalities and the intricate relationships that Meyer has woven between them all.
Memorable Quotes
"Maybe there isn't such a thing as fate. Maybe it's just the opportunities we're given, and what we do with them. I'm beginning to think that maybe great, epic romances don't just happen. We have to make them ourselves."
Final Thoughts
Overall, I loved this addition to the Lunar Chronicles. I think it is my favourite book so far. I just love all the characters and seeing how they are coming together into this unstoppable team to save the Earthen Union. Fantastic storytelling, brilliant world-building and incredible characters. What isn't there to love?
Have you read Cress/The Lunar Chronicles? What did you think?
---
Feel free to follow me on Twitter or Goodreads. Comments are always warmly welcome.