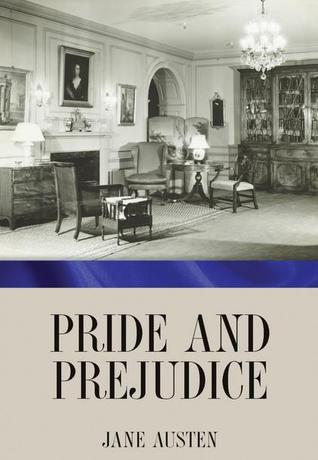 Pride and Prejudice

Author: Jane Austen
Genre: Fiction, Classics, Romance
Originally Published: January 28th 1813
Format: Kindle (228 pages)
---
Synopsis: When Elizabeth Bennet first meets eligible bachelor Fitzwilliam Darcy, she thinks him arrogant and conceited; he is indifferent to her good looks and lively mind. When she later discovers that Darcy has involved himself in the troubled relationship between his friend Bingley and her beloved sister Jane, she is determined to dislike him more than ever. In the sparkling comedy of manners that follows, Jane Austen shows the folly of judging by first impressions and superbly evokes the friendships, gossip and snobberies of provincial middle-class life.

---
My Rating: ★★★★★
My only previous experience with Jane Austen was reading enough chapters of Emma to scrape through an exam many years ago. At the time, I think I was simply too young to appreciate Austen's writing style and delicate story telling. Reading Pride and Prejudice has made me desperate to pick up more of Austen's work in the future.
Pride and Prejudice is a story of love, society, status and, most importantly, family. This is an enchanting glimpse into the life of the Bennet family and their acquaintances. I enjoyed reading about the different time period and the whole thing felt very Downton Abbey which I, of course, absolutely loved!
As a family, the Bennet's never failed to both amuse and frustrate me. Mr Bennet captured my heart immediately with his endearing love towards Lizzy and his quick wit and dry humour. I found him to be so British and I was laughing to myself on several occasions due to the dialogue given to him by Austen. Mrs Bennet frustrated me but I understood her completely. Put quite simply, she is a loving mother who wants nothing more than for her five daughters to be married and well-looked after, even if she doesn't always get her point across in the most effective way!
Out of the five sisters, Lizzy is my absolute favourite, followed closely by Jane. I believe that this was probably Austen's intention as we learn a lot more about these two than we do the other three. I adored Jane's kind heart and her endless support and love of her family, especially Lizzy. I couldn't help but love Lizzy, she reflects so much of what I admire and crave from female characters. She is strong-willed, independent and not afraid to speak her mind, whilst still being a loving and caring sister and friend. I love that Austen took her opportunity to use Lizzy as a female character who does not conform to all of societies expectations at the time. I could not be happier that these two characters got their happy endings!
Mr Darcy, oh where do we begin? Although I knew how this story would end having seen the movie adaptation, I still felt myself flicking through the pages hoping to catch glimpses of Mr Darcy and Lizzy's names being mentioned together. This story is truly a love affair and shows exactly how love can come from the most unlikely of places.
What did I love most about the book?
I really, really love how Austen challenges so many female stereotypes in this book. She creates characters which challenge the social status of women at the time and uses language that empowers women and makes them equal to men. Her use of the word 'handsome' to describe women fills me with an indescribable feeling of love.
Memorable Quotes
"A lady's imagination is very rapid; it jumps from admiration to love, from love to matrimony in a moment."
"It is a truth universally acknowledged, that a single man in possession of a good fortune, must be in want of a wife."
"There are few people whom I really love, and still fewer of whom I think well. The more I see of the world, the more am I dissatisfied with it; and every day confirms my belief of the inconsistency of all human characters, and of the little dependence that can be placed on the appearance of merit or sense."
"Vanity and pride are different things, though the words are often used synonymously. A person may be proud without being vain. Pride relates more to our opinion of ourselves, vanity to what we would have others think of us."
Final Thoughts
It took a little while to get into this book at the beginning as I adapted my reading to Austen's written language. But this is the real treat of the book. I love the way in which Austen manipulates and uses the English language. I adore the way that Austen uses the word 'handsome' to refer to the women in her stories, it's something that always makes me feel a little fuzzy inside. You have to take your time to fully enjoy and appreciate this story and I could not be happier that I have finally read it.
Have you read Pride and Prejudice? What did you think?
Which of Austen's other books do you recommend I read next? 
---
Feel free to follow me on Twitter or Goodreads. Comments are always warmly welcome.