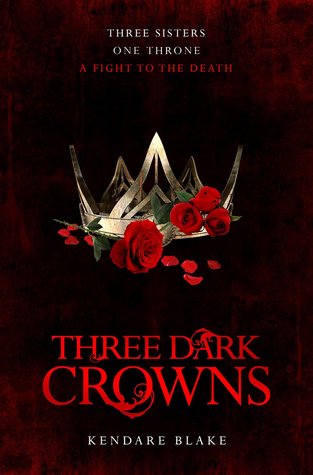 Three Dark Crowns (Three Dark Crowns #1)

Author: Kendare Blake
Genre: Young Adult, Fantasy
Publication Date: September 20th 2016
Format: Paperback (405 pages)
---
Synopsis:
Three sisters. One crown. A fight to the death.
In every generation on the island of Fennbirn, a set of triplets is born: three queens, all equal heirs to the crown and each possessor of a coveted magic. Mirabella is a fierce elemental, able to spark hungry flames or vicious storms at the snap of her fingers. Katharine is a poisoner, one who can ingest the deadliest poisons without so much as a stomachache. Arsinoe, a naturalist, is said to have the ability to bloom the reddest rose and control the fiercest of lions.
But becoming the Queen Crowned isn't solely a matter of royal birth. Each sister has to fight for it. And it's not just a game of win or lose . . . it's life or death. The night the sisters turn sixteen, the battle begins.
The last queen standing gets the crown.
---
My Rating: ★★★★
I had my copy of this (two actually) for ages before finally reading it and I have to admit that I went in a little apprehensive after seeing some mixed reviews. Whether this affected my reading experience I do not know but I do know that I enjoyed this book.
On the island of Fennbirn, heirs to the throne are born in triplets, but only one can rule. Separated at the age of six, Mirabella, Arsinoe and Katharine are turning sixteen and will be expected to kill two of their sisters to prove their place as Queen. Each of the sisters has their own speciality branch of magic and have been raised for this moment, but who is the strongest?
The plot of this book sounded seriously fantastic, I knew I would enjoy this but I did feel that the plot for this book was a little misleading after reading the actual book. Don't get me wrong, this is still a great book, but it is not quite the murderous novel I was expecting (although it did have its moments – some very bloody moments are included in this book, be warned!). To me, Three Dark Crowns is more the story of the three sisters and their preparations leading up to the Ascension Year, the year they will have to kill one another. I expected that by the end of this book I would know who would rule as Queen but I don't. Which is actually fine by me because I am now expecting that the sequel will be full of action as the three seek their revenge and place on the throne.
This book is told from multiple POVs and it works really well. I like books with multiple POVs as long as they are written well and these ones were. Each of the characters had a unique voice and it was a good way to glimpse into the lives of the three Queens as well as some of the other characters such as Jules and Natalia. It also continued to work well later on in the book when the stories became a bit more entangled.
I was torn in half by the characters in this book. Some of them I really liked and others I just didn't really care for, but this was for personal reasons in not liking them as characters, not because they were badly written. I would have liked to see a bit more about Katharine as I felt during the middle of the book she was a little left out, but I did like all of the sisters. My favourite character from the book is probably Jules, Arsinoe's closest friend and fiercest protector. I thought she was great and I loved her cougar, Camden, too.
I had very little interest in the romantic interests in this book. It was inevitable that there would be some but I don't feel they are all that important in this story. One of them made me particularly annoyed and if you've read this book you probably know who. I did like Billy, I thought he was kind of sweet and I'm looking forward to seeing what will become of him in the next book.
This book opens with a gorgeous map, which is always one of my favourite aspects of a fantasy book. I liked the world-creating although I felt that I needed more vivid descriptions to imagine the book more clearly. I liked the different aspects of the magic the sisters could use but I felt that this needed more of a focus and development to truly understand the power of the Queens. I loved the idea of the familiars that the Naturalists had and would have liked to learn a bit more about the connections. I'm hoping that we'll learn more about the different types of magic in the next book.
On the whole I thought this was an original, interesting YA fantasy novel. Kendare Blake has certainly left an opening for plenty of bloody action in the next book and I'm very much looking forward to seeing how the fight to the throne plays out.
---
What did you think of Three Dark Crowns?
Who is your favourite Queen?
What are your favourite YA fantasy books?
---
---
Follow me on Twitter, Instagram, Bloglovin' or Goodreads. Comments are always warmly welcome.