Thanks to the lovely Sam who hosts this meme at Taking On A World of Words. This is a weekly meme where I answer the three W's of reading: What are you currently reading? What have you just finished reading? What will you read next?
What are you currently reading?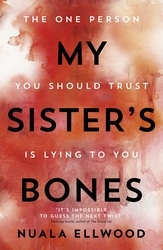 I'm currently reading an eARC that is a bit overdue (woops!). My Sisters Bones is really intriguing me so far. I'm nearly halfway through and still a bit confused about what is happening but I'm hoping this is the point of the book. The writing is strong though, so hoping the second half will clear things up for me!
What did you recently finish reading?
Two books so far this week! After an initially slow start, I fell head over heels for Margot & Me. It is such a wonderful story and I loved the way it flicked back between the present and Margot's diary from during the second world war. It's an interesting, touching and emotional read. I also FINALLY read Of Mice and Men. For such a short book this sure is powerful and that ending had me teary eyed. I think I'm probably one of the few people who didn't read this in school!
What do you think you'll read next?
I honestly do not know. I chose my current book by using a random name picker so that goes to show how good I am at making decisions! I have a few options though so it may be one of the above! (Or next week could reveal that it's something completely different!!) I am not so patiently waiting for A Conjuring of Light to release next week!
---
      What have you been reading this week?
Do you have any thoughts on the books I've mentioned? 
---
---
Follow me on Twitter, Instagram, Bloglovin' or Goodreads. Comments are always warmly welcome.