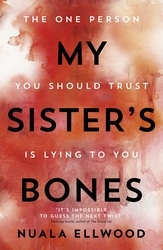 My Sister's Bones

Author: Nuala Ellwood
Genre: Mystery/Thriller
Publication Date: February 9th 2017
Format: eARC (400 pages)
---
Synopsis:
ARE YOU BRAVE ENOUGH TO GO BACK?
Kate Rafter is a successful war reporter. She's the strong one. The one who escaped Herne Bay and the memories it holds. Her sister Sally didn't. Instead, she drinks.
But when their mother dies, Kate is forced to return to the old family home. And on her first night she is woken by a terrifying scream.
What secret has Kate stumbled upon?
And is she strong enough to uncover the truth . . . and make it out alive?
---
My Rating: ★★★
My Sister's Bones tells the story of sisters Kate and Sally. After a childhood full of violence at the hands of their alcoholic father, Kate is now a journalist working all over the world in locations such as Syria and Sally is a stay at home alcoholic. After the death of their mother, Kate returns to Herne Bay but little does she know the mystery that is about to unravel around her…
I liked this book but I did not love it and I don't think it is a book that I would reread in the future. There are three parts to this book and my feelings shifted only slightly between each part.
Part one is Kate's story. It shifts back and forth on a timeline and I couldn't quite get my head around why. What we know at the beginning is that Kate has returned to Herne Bay after the death of her mother and that in the 'present' she is being detained and questioned. The whole of part one was quite confusing to me and it felt like not a lot happened. I kept waiting for a huge reveal but I didn't feel that really arrived here as the bit that was supposed to be her big secret she didn't want to talk about was easily guessed. That said, I did like Kate as a character and thought she showed a tremendous strength of character.
Part two is all about Sally and it was interesting to see how her memories of childhood varied to the accounts we had already had from Kate. It was during part two that my suspicions about the ending of the book began (I was wrong, however!). Sally was an interesting character but I did prefer Kate to her overall.
The end of part two and then the final part were where things really got interesting and I devoured the last 20 percent(ish) of the book. It was only at the last moment I put the dots together but I did think the ending was slightly random as although we knew there was something weird going on, there wasn't much of an inclination as to what it would be. I will say that the twist was great though and I loved how much was packed into those parts of the book.
For me this book was about 80% learning about the characters and their backgrounds with 20% of actual thrill and action. There is no denying that Nuala Ellwood is a great writer and there will be plenty of people who adore this book it just wasn't quite my cup of tea. I liked it enough but just felt that I needed something a bit more from it earlier on in the plot. I like my thrillers to be fast paced but for those who love a slow burn, atmospheric thriller, this will be the book for you.
Thank you to Netgalley and Penguin Books UK for my copy in exchange for an honest review.
---
Have you read My Sister's Bones? What did you think?
What are your favourite mystery / thriller books?
---
---
Follow me on Twitter, Instagram, Bloglovin' or Goodreads. Comments are always warmly welcome.