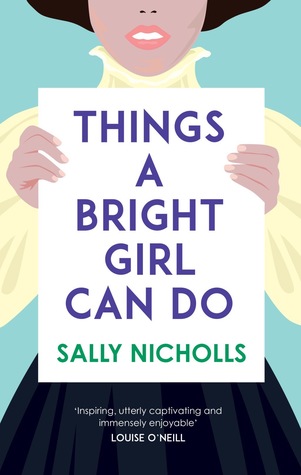 Things A Bright Girl Can Do

Author: Sally Nicholls
Genre: YA, Historical Fiction
Publisher: Andersen Press
Publication Date: September 7th 2017
Format: ARC (432 pages)
---
Synopsis:
Through rallies and marches, in polite drawing rooms and freezing prison cells and the poverty-stricken slums of the East End, three courageous young women join the fight for the vote.
Evelyn is seventeen, and though she is rich and clever, she may never be allowed to follow her older brother to university. Enraged that she is expected to marry her childhood sweetheart rather than be educated, she joins the Suffragettes, and vows to pay the ultimate price for women's freedom.
May is fifteen, and already sworn to the cause, though she and her fellow Suffragists refuse violence. When she meets Nell, a girl who's grown up in hardship, she sees a kindred spirit. Together and in love, the two girls start to dream of a world where all kinds of women have their place.
But the fight for freedom will challenge Evelyn, May and Nell more than they ever could believe. As war looms, just how much are they willing to sacrifice?
---
My Rating: ★★★★ 1/2
I was so excited to read this book because any time a book considered even slightly feminist is released I know I need to get my hands on it. Luckily I managed to get my hands on an advanced copy and this book was even more than I hoped it would be. It is passionate, honest, emotional and exhilarating.
Taking us all the way back to the 1910's, Things A Bright Girl Can Do is everything that I expect from a historical fiction novel with the exception that I found it much easier to read than most. It was really informative about the Suffragette movement and the War without containing paragraph upon paragraph of information. It is very much a character driven novel and I really enjoyed seeing the situation from three rather different points of view.
Evelyn was a really interesting character and certainly one that I imagine I would have related to in some ways if I were born in those times. She is really ambitious and absolutely angered by the fact that, as a woman, she is not expected to go onto University or to get herself a better education. There were some particularly passionate bits of dialogue in Evelyn's chapters that really fuelled the passionate feminist in me. It was also interesting to read her POV because of her beloved Teddy and it was nice to see that this book took into account the many men who were supportive of women fighting for their right to vote. There were certainly parts of Evelyn's journey that made me feel quite emotional and she certainly sacrificed a lot at a young age, as many of our ancestors did.
May was the character I probably related to the least in a personal way. She comes from a well off background and some of her views were a little frustrating to me. On the other hand I absolutely loved that she was passionate about the right to vote but that she did call into question (alongside her mother) some of the more violent actions of the Suffragettes. May is quite a light hearted and loving young lady who is full of passion and it was really refreshing to see her part in the lesbian relationship of the book and her views on her sexuality.
Nell was definitely my favourite of the girls. She was in absolutely no way your stereotypical 'girl' – she dressed more like a boy, acted more like a boy and as a result had basically made herself an outcast from her part of society. It was nice to read the POV of a character coming from a much lower social class than the other two girls because it made everything feel even more real. The affects of the War on Nell's family were devastating and it really made my heart ache knowing that this happened to so, so many families. Nell is incredibly fiery, passionate, protective and driven. I just loved how far she would go to help support her family, no matter the cost. Some of my favourite dialogue was between Nell and May, especially when Nell would get so frustrated at May's lack of ability to understand her own view point and situation.
All in all I really loved the three girls as I thought they all brought something unique to the table. I was really glad that each of the girls were different and gave me different ways to view how things were as it was really thought provoking. It was great to get an insight into the different ways in which women fought for suffrage and also the consequences of those actions.
Aside from suffrage, this book had great diversity threaded through it and its many themes. There was love aplenty but I was happy to see a f/f relationship and the discussion that it opened about sexuality. I was incredibly happy that the girls were from different social classes and that it was so apparent how this affected their views on different things. Nell, being from a lower social class, had very little to lose and would throw herself whole heartedly into the action whereas someone like May, who came from a higher social class, wouldn't dream of being involved in the violence. It added a really interesting element for me.
I absolutely love coming away from a book and knowing that it has taught me something and that is definitely how I felt after I put down Things A Bright Girl Can Do. It was really thought provoking and evoked a lot of emotions within me. Mostly I am absolutely and completely grateful to all those women who fought for suffrage in such times, without them where would we be today?
A huge thank you to Harriet at Andersen Press for my advanced copy in exchange for a fair and honest review.
---
Have you read Things A Bright Girl Can Do? Will you be picking it up?
Recommend me one of your favourite YA feminist books in the comments!
---
---
Follow me on Twitter, Instagram, Bloglovin' or Goodreads. Comments are always warmly welcome.