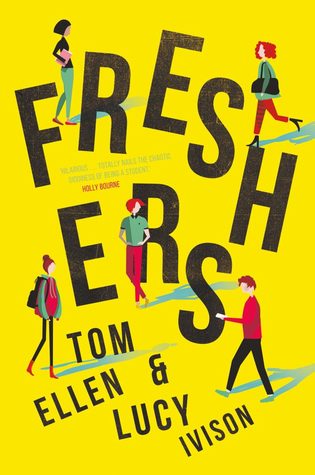 Freshers

Author: Tom Ellen & Lucy Ivison
Genre: YA, Contemporary
Publisher: Chicken House
Publication Date: August 3rd 2017
Format: Paperback (367 pages)
Goodreads:       Book
---
Synopsis:
Another laugh-out-loud dual narrative, Freshers is a YA novel following two protagonists through that tumultuous first year of university. Starring new characters – but featuring some familiar faces from Lobsters – Freshers is a contemporary, authentic story packed full of love, sex and friendship.
---
My Rating: ★★★★
Oh how I pine for my uni days! I absolutely loved uni and some of my favourite ever memories were made when I was there so when I first heard about Freshers I was absolutely made up. I immediately knew I would need to have a copy and snatched one up as soon as I saw it on the shelves a couple of months ago.
I liked the dual narrative approach to this story a lot because it really added an extra element to the book. Phoebe is single and ready to mingle, she makes a good group of friends with the people on her corridor and spends many a drunken night dancing whilst dressed up as a fool. For Luke things don't quite go to plan. Within days his relationship ends, he doesn't bond with the people on his corridor and he feels alone. Going to uni feels like a terrible mistake to him and he finds it hard. I was really glad to see Luke's struggle with the transition to university. Although I was lucky and my story was much closer to Phoebe's, not everything clicks straight into place for everyone when they go to uni. University is such a huge life changing moment and it doesn't work out the same for everyone and that's okay. Whether it's first year or third year, eventually you will make friends and you will enjoy the experience. It was also refreshing to see the honesty and emotional side of Luke's narrative.
I liked the characters and Frankie was definitely one of my favourites. She just sounded hilarious and is definitely someone I would have found myself navigating towards. There was a wide range of characters described throughout the book and I liked how this portrayed uni life. People of all different backgrounds coming together.
The book fell slightly short on the humour for me but there were a couple of laugh out loud moments, condom-gate being my favourite. I mean, that's one way to test your friendship with the girls! Something that really grated on me when reading was the lad behaviour (you will know what I mean if you've read this) because it just made me feel physically sick. But unfortunately it happens and I was glad to see it being resolved and called out in the way that it was. This isn't a criticism of the book, it was pleasing to see that it was tackled.
Essentially Freshers is exactly what it says on the tin. It is fun, relatable (for people who have been to uni) and entertaining. It is a quick read that I was quickly able to lose myself in.
---
Have you read Freshers? What did you think?
What is one of your favourites freshers memories?
---
---
Follow me on Twitter, Instagram, Bloglovin' or Goodreads. Comments are always warmly welcome.