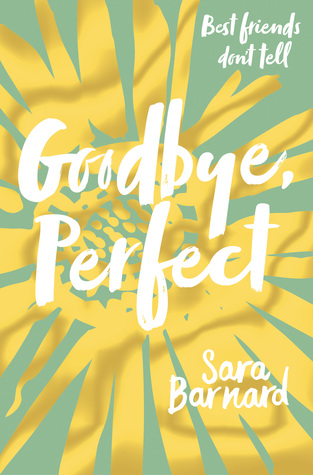 Goodbye, Perfect

Author: Sara Barnard
Genre: YA, Contemporary
Publisher: Macmillan Children's Books
Publication Date: February 8th 2018
Format: Paperback (384 pages)
---
Synopsis:
Eden McKinley knows she can't count on much in this world, but she can depend on Bonnie, her solid, steady, straight-A best friend. So it's a bit of a surprise when Bonnie runs away with the boyfriend Eden knows nothing about five days before the start of their GCSEs. Especially when the police arrive on her doorstep and Eden finds out that the boyfriend is actually their music teacher, Mr Cohn.
Sworn to secrecy and bound by loyalty, only Eden knows Bonnie's location, and that's the way it has to stay. There's no way she's betraying her best friend. Not even when she's faced with police questioning, suspicious parents and her own growing doubts.
As the days pass and things begin to unravel, Eden is forced to question everything she thought she knew about the world, her best friend and herself.
---
My Rating: ★★★★★
It is no secret that I have absolutely no chill when it comes to Sara Barnard and her books. I am obsessed with Beautiful Broken Things and A Quiet Kind of Thunder so when I was lucky enough to receive an advanced copy of Goodbye, Perfect back in late 2017, you could say I was a tad excited. I immediately picked it up and a few hours later I put it down, full of tabs and with a smiling heart.
Goodbye, Perfect is exactly what it says in the title: perfect. It has everything that I have grown to love about Barnard's writing: delicate, swoony romance, complex family relationships, layered and flawed characters, not to mention the brilliant way in which she writes friendship. Match that with a tricky, rather taboo subject matter and you come out with this brilliantly crafted novel.
"People talk about friendship like it's only about shared loves, but it's not. It's also about finding the same things annoying and getting excited about the same silly, irrelevant things. It's the person you can share a joke with, sure. But it's also the person you can subtly roll your eyes at when someone else is talking too loudly. The person who makes the fun things better and the boring things more bearable."
I knew this would be a book I would love due to the nature of its content. A YA book that isn't shying away from the damaging effects of a teacher/pupil relationship that also brings into question friendship and just how far Eden is willing to go to protect her friend, even when she discovers the truth behind Bonnie's disappearance. There were definitely times where Eden's choices frustrated me but I could also easily see why she decided to keep quiet on so many occasions. I work with teenagers daily and long ago I was obviously one myself, it takes something significant to break the loyal bond of the teenage friendship and this book certainly puts Eden to the test. I read this book in one sitting and that in itself is testament to just how gripping this novel is. The tension builds steadily throughout and then comes to a head in a pretty big climax and even right up until the end you're unsure how it will turn out. I'm saying no more related to the plot of this novel as I don't want to spoil a thing but I implore you to pick this up and not find it completely captivating!
"My teachers call me 'spirited' when they're trying to be nice, and 'disruptive' when they're not."
Ah, the characters. Eden is my perfectly flawed new favourite character. I loved that one second she was full of sass, then we would see her vulnerable side and I she is such a fiercely loyal person. She is definitely my favourite out of Barnard's characters so far! She is not a perfect straight A student and she makes a lot of mistakes along the way and I think this is why so many teen readers will relate to Eden. Aside from Eden, we have the reckless Bonnie, the adorable Daisy and definitely not forgetting the swoon worthy Connor. Major heart eyes were going on throughout this book – they are a match made in heaven!
I loved the dynamics between Eden and the other characters and I felt like I caught a different side of her character depending on who she was communicating with. She is fiercely protective over Daisy and their bond as sisters was something I could totally relate to. It was also incredibly interesting to see the way in which Barnard portrayed the difference between 'blood' sisters (aka Eden and Daisy) and 'adoptive' sisters (Eden and Valerie). Bob and Carolyn, Eden and Daisy's adoptive parents, are absolute darlings but it was nice to see that there were moments where Eden reflected on their birth mother and how she wasn't a 'bad' person, but a person who had made a mistake and couldn't cope.
The relationship between Connor and Eden still has my heart swooning and I read this book a few months ago. They fit together so wonderfully and I love how our headstrong Eden can also be vulnerable in front of Connor. There are some really touching scenes between them throughout the book and I love how supportive Connor is. Once again, Barnard doesn't shy away from the taboo of losing virginity so be prepared for some definite swooning!! Most importantly for me, neither Eden nor Connor get everything right every time but their love for one another out shines everything else.
"Sometimes it just takes that one person to see beyond what everyone tells them they're meant to see."
The structure of this book also caught my eye. As well as the usual narrative/dialogue, the book includes cute character profiles where Eden is giving us a quick overview of a person. I loved reading these and thought it was a really fun way to quickly give the reader a glimpse at each character. There were also the text messages that were scattered throughout the book. I love a book that includes things like social media because a contemporary YA without such features wouldn't feel very real at all.
Goodbye, Perfect has become an instant favourite of mine as are all of Sara Barnard's other books – she really can do no wrong in my eyes. This book is full of flawed and perfectly layered characters, complex but realistic relationships and friendships, soft and meaningful romance as well as dealing with a heavy topic. It is a book I will read over and over again and will recommend forever and a day.
Goodbye, Perfect is, indeed, perfect.
An enormous thank you to Bea at Macmillan Children's Books for sending me both a proof and a shiny finished copy of this book in exchange of a fair and honest review.
---
Have you read Goodbye, Perfect? Is it on your TBR?
What are your favourite YA contemporaries?
---
---
Follow me on Twitter, Instagram, Bloglovin' or Goodreads. Comments are always warmly welcome.