Hi everyone! Today I'm back with a new addition to my Fandom Frenzy series and it's from the wonderful Hannah @ A Cup of Wonderland. Make sure you check out Hannah's blog for all things bookish!
What fictional world would you most like to find yourself in?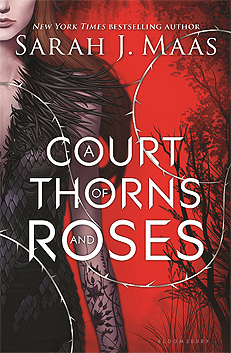 The fictional world which I'd most like to find myself in would be the Prythian from Sarah J Maas' A Court of Thorns and Roses trilogy! I know a lot of people didn't enjoy the final instalment of the series but for my I absolutely adored it!
Which characters in that world would you choose to be your closest allies? Why?
Most likely I'd want Armen, Azriel and Cassian as my closest allies. This is simply because I think these would be the three that I would get on best with, as I'd be very interesting in training with them and I enjoy their sense of wit and humour.
Which characters do you think would be your enemies? (This doesn't have to be the 'canon' villain!)
Amarantha and Tamlin, simply because these two I had so many problems with from day one! I mean Amarantha was a canon villain but Tamlin was simply a douche. Not very elegant way of saying it but is true, plus he was obsessive and arrogant which are qualities which I don't like. I think if I lived in this world then me and Tamlin would butt heads a lot!
How do you think you would cope walking in the shoes of that fandom's protagonist?
I'd love to say I'd cope loads but honestly if I had to follow the same path as Feyre then I would go mad cause I feel that at times she is too passive and not as decisive as she should be. I think I am a lot more blunt than Feyre through that would have gotten me into a lot more trouble, especially in the first book. I'd almost certainly cause myself to be killed by Amarantha.
Which part of the story would you most like to try and change as the new protagonist? (Try and keep it spoiler free!)
The part I'd want to change would be a spoiler so I can't actually say but it be a relationship with a certain character and how I would like Feyre to react her in the second novel.
BONUS: Which fictional world wouldn't you like to find yourself waking up in? Why?
Oh this is a hard one. See I am one of those weird people who wouldn't mind if they woke up in a dystopian world or anything like that so there isn't a particular world that I'd be completely adverse to?
Thank you Kelly for having me on your blog! This was a super fun post to write because there are so many worlds which I'd like to find myself in so it was fun trying to narrow it down!
I definitely like I'm one of the few people in the world left who hasn't read this series, or anything by Sarah for that matter! I loved Hannah's answers though – they made me laugh!
A HUGE thanks to the lovely Hannah for participating in this feature. Be sure to check her out on Twitter (@cupofwonderland), Instagram and follow her blog!
---
If you're interested in participating in this feature, please contact me via Twitter (@kellysrambles) or email me: kellysrambles@gmail.com I'd love to spread #FandomFrenzy far and wide!
---
---
Follow me on Twitter, Instagram, Bloglovin' or Goodreads. Comments are always warmly welcome.