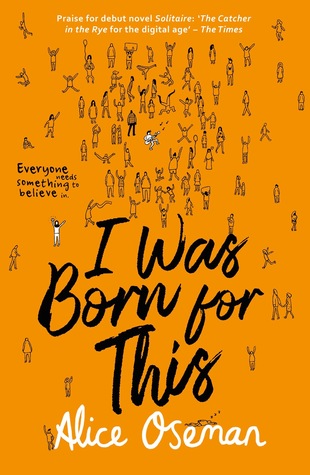 I Was Born For This

Author: Alice Oseman
Genre: YA, Contemporary
Publisher: Harper Collins Children's Books
Publication Date: May 3rd 2018
Format: Paperback (400 pages)
---
Synopsis:
For Angel Rahimi, life is only about one thing: The Ark – a pop-rock trio of teenage boys who are currently taking the world by storm. Being part of The Ark's fandom has given her everything – her friendships, her dreams, her place in the world.
Jimmy Kaga-Ricci owes everything to The Ark too. He's their frontman – and playing in a band is all he's ever dreamed of doing. It's just a shame that recently everything in his life seems to have turned into a bit of a nightmare.
Because that's the problem with dreaming – eventually, inevitably, real life arrives with a wake-up call. And when Angel and Jimmy are unexpectedly thrust together, they will discover just how strange and surprising facing up to reality can be.
---
My Rating: ★★★★★
You have quite literally NO idea how excited I was when a proof of Alice Oseman's new novel landed in my hands. I adored both Solitaire and Radio Silence and just knew I would be in for another treat. I Was Born For This had my heart singing with joy and nostalgia for my good old fandom days whilst capturing the teenage spirit perfectly. With a diverse and layered cast of characters, a fun and quick paced plot as well as dealing with some hard hitting topics along the way, I Was Born For This is a wonderful new novel from Oseman.
I went into this book not really knowing too much about it, I mean, if I'm being honest I'll pick up anything that Alice Oseman ever writes so it really doesn't matter what it's about! I was surprised and delighted to see just how closely I could relate to this story when thinking back on my own fandom times. I fondly looked back on the late night conversations, the tumblr blogs and edits I would make, the friendships I created and maintain even to this day, the ups and downs of fandom, the ships, the romances we wanted and the romances we didn't want. Gosh, those really were the days! I just adored how this book felt SO relatable to me despite the fact I was never part of a music fandom. I totally understood how Angel felt about her band and it made me love her really quickly.
Angel is so immersed in her love for The Ark both in "real life" and online that she forgets there is a whole other reality around her. Her parents have high expectations and just don't understand how she feels about the boys. The passion that Angel has for her band quickly swept me along with her and I really loved her dedication. I have to give Oseman a HUGE round of applause, and thank you, for including the idea of "internet-friends-meet-in-real-life-and-nothing-terrible-happens" because I've met some of my absolute favourite friends in the world thanks to the internet and I think sometimes we can be lead to forget just how wonderful the internet and social media can be.
On the flip side to Angel, we have adorable, lovely Jimmy. I just adored him from the get go and literally wanted only the best for him. He is such a vulnerable character and I liked how this was juxtaposed against his band persona. Whilst 'band Jimmy' may be able to turn on that charm and go out on stage in front of thousands oozing confidence, it was the 'real Jimmy' who was nervous, shy and terrified who really captured my heart. His relationships with Lister and Rowan were really well written and felt so honest.
I liked how Alice Oseman took both fandom life and a life of fame and really shone a spotlight on both of those things. She absolutely nails how it feels to be a fan of something, to give your life and yourself to something/someone and the excitement of it all without ever realising the impact it can have on those involved. Fame certainly isn't all it's cracked up to be in this book and it was really interesting to take on the idea of how the fans really make the boys in The Ark feel. On the outside it's easy to assume famous people want their fans to go crazy over them but, actually, Oseman paints a very insightful picture of life inside the band. There were moments where my heart ached for Jimmy, Rowan and Lister but bubbled with excitement for Angel only for it to be reversed a few moments later where I felt happiness and relief for the boys but my heart ached for Angel. Alice Oseman really knows how to write stories with characters who just sneak under my skin without me even realising they're doing it.
This book is diverse in a way which feels effortless. Nothing is explained, the diversity in this novel is merely presented as a fact that has to be accepted and I really liked that. Angel is Muslim and wears a hijab, Jimmy is transgender and suffers with extreme anxiety, Lister has struggles of his own with alcohol and a slutty reputation, Juliet has family struggles, this book touches upon mental health, obsession, diversity, friendship, romance, family. What Alice Oseman does here is take on real life. She takes on a world where people of all faiths, genders, sexualities, beliefs can be united by one thing: fandom and she peels back the layers of the characters and their stories and before you know it you're also being stripped bare. I'm not sure how Oseman does it but she just writes the most incredible, realistic and relatable characters.
You've probably guessed by now but I really freaking loved I Was Born For This. It wouldn't be right for me to finish this review without giving a shout out to the grandparents of the world. I am a sucker for a YA book with wonderful grandparents and there are two in this one! Dorothy is Juliet's grandmother and takes her in during her time of need and then we have Jimmy's Granddad who plays a pretty large part in the book towards the end. I loved his relationship with Jimmy and thought it created some really poignant moments.
I Was Born For This is a book which challenges the idealism of fame and contrasts it against the obsession of fandom. It's a book which is effortlessly diverse in its characters, both fun and heavy in its message but most of all relatable. Oseman proves herself, once again, to be a master of the teenage voice. Now, how do I wait for more?!
Huge thanks to the lovely Alice Oseman, Harper Collins Children's Books for my copy in exchange of an honest and fair review.
---
Have you read I Was Born For This? Is it on your TBR?
What fandom do you/did you belong to?
---
---
Follow me on Twitter, Instagram, Bloglovin' or Goodreads. Comments are always warmly welcome.